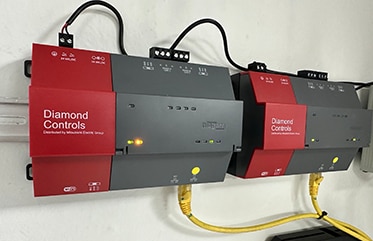 Mitsubishi Electric DC-8000 Controller. A compact, internet-ready controller and server platform.
Built with Niagara4 technology, the DC-8000 Controller utilizes the latest version of Tridium's Niagara Framework. The new interface and platform streamlines Internet of Things (IoT) connectivity and includes advanced visualization, new search capabilities, security and navigation tools.
Developed to provide integrated control, supervision, data logging, alarming, scheduling and network management, the DC-8000 connects multiple, diverse devices and sub-systems. The controller is ideal for any size facility thanks to the scalability of the Niagara platform. Facility managers will find the controller's integration features useful, since it allows for control of multiple systems within a building, including HVAC, lighting energy, fire alarm, security system and more.